Wigs are certainly a go-to option if you need to change your look, disguise hair loss, or just look fashionable. It's best to know what wigs to buy if you are intending to choose a wig, what wigs look realistic what's the best quality to buy etc.
Why choose a synthetic wig
Gone are the days when we were left with just one quality of synthetic wigs which are the shiny and glossy synthetic wigs. This quality does not look realistic at all. They tangle easily.
Synthetic wigs are now been produced in high-quality fibers and synthetic wigs are available in a lace front option which means they look far more natural than what they used to look like before.
If you want wigs that look real in 2022 but are still affordable, synthetic wigs are a better option to choose. Luckily Eternal Wigs has a range of synthetic wigs that are premium and look natural too.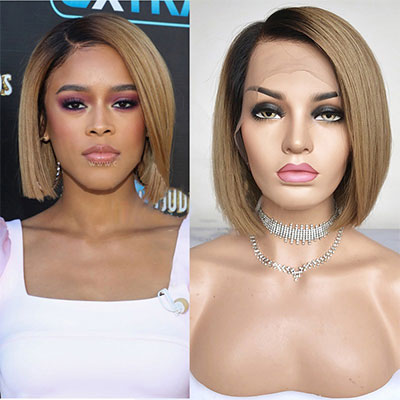 1.    Synthetic wigs are affordable.
Affordability is key especially when you are new to wigs. Eternal wigs offer a premium line of synthetic wigs that have a very premium feel and look real.
2.    Versatility.
Eternal Wigs offer a Non-lace cap and Lace cap wigs. The Lace synthetic wigs are made with lace just right in the front part of the wig and the rest of the cap is wefted. Lace caps are good because they are breathable and the hairline looks more natural. With both lace and non-lace wigs however they can be styled in multiple ways and allow for huge versatility.
3.    Low maintenance.
Synthetic wigs do not require huge maintenance because they already come pre-styled and also low heat is required if at all it needs to be styled. Do check the recommended heat levels that should be used on the wigs before putting heat on them so as not to damage the wig
All Eternal Synthetic wigs quality are the same and feels really good but if you are looking to choose a more natural look then we suggest a lace front synthetic wig. They can be styled easily even though all Eternal Wigs synthetic wigs come pre-styled.
Here are a few synthetic wig options that look real
https://eternalwigs.com/product/wavy-cranberry-synthetic-lace-front-wig/
https://eternalwigs.com/product/brownie-brunette-synthetic-lace-front-wig-with-highlights/
https://eternalwigs.com/product/koko-light-brown-synthetic-lace-front-wig/
Conclusion
If you looking to choose an affordable wig in 2022 that looks real then choose a premium quality wig, the quality is amazing for a good price point.