Being in the world of wigs can be daunting; how do you choose the right one? Lace front or full lace, glueless or with glue? From colors to textures to hair types, it can all be mind blowing. But good news: we have information and articles to help and we are currently updating more topics to keep our readers up to date. If you are new to the world of wigs, check out the article on Ultimate guide to buying wigs online in 2022
For the purpose of this topic and conversation let's discuss the benefits of wearing a glueless lace front wig.
Lace Front Wigs – What are they?
Lace front wigs are typically made of human hair, although some synthetic wigs can be made in lace front styles as well. They are made of hair closures that look like natural scalp. They usually can be parted one or two ways in the front. Hair wefts are sown on the bottom half of the wig.
Lace front wigs are quite good because they are well-ventilated and breathable. They are made to be realistic and can give the illusion of real hair. Lace front wigs can be styled in multiple ways such as a side part, ponytail, bun style etc. If maintained properly, lace front wigs can last well over a year.
Glueless Wigs – What are they?
As the name suggests glueless wigs are wigs that don't require the use of glue. These wigs are made with combs, bands, straps that make them easy to wear while the bands and straps make them easy to secure. The bands are usually an addition that makes it easy to tighten or loosen the wig if there's a need for it.
The cap of a lace front wig usually looks like the image below –
Benefits of Wearing a  Glueless Lace Front Wig
Some of the benefits of wearing a glueless lace front wig is that they do not require glue. Wearing glue sometimes is not as easy enough for everyone and if glue is applied constantly over a long period of time, it can lead to hair loss. This is because it can block hair follicles and also cause allergic reactions.
One of the major benefits of wearing a glueless wig is that it is quick and easy to wear. It can be worn in less than 10 seconds and is also easy to remove. It requires no glue and gives a breathing room for your natural hair to grow.
Steps to Wear Your Glueless Lace Front Wig
The steps to wear your glueless wig are quite easy and straightforward. First, you require the tools which we have itemized below and follow the steps thereafter.
Tools to Apply a Glueless Lace Front
Nail cutting scissors
Tail Comb
Steps to Apply Glueless Lace Front Wigs
Flatten your natural hair either in a conrow, plaits or any other option.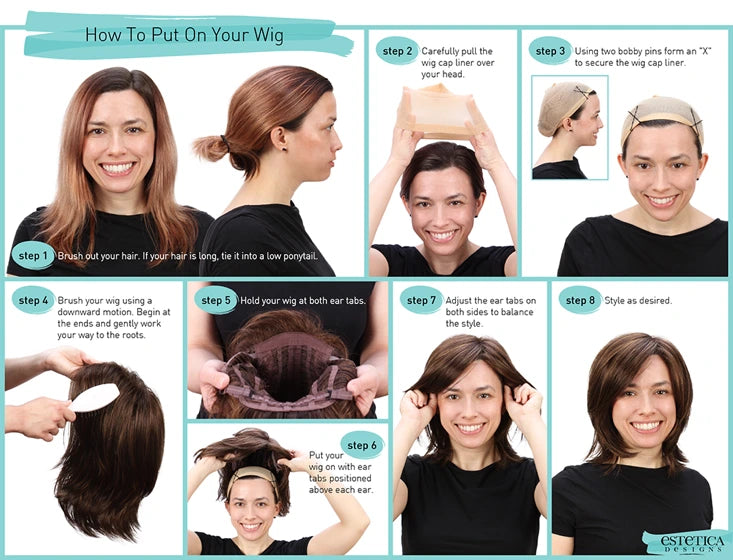 Put on a wig cap (Find a suitable colour that matches your skin tone). We always recommend for the knots of the wig to be bleached.
Put on your lace front wig.
Cut the lace across the ears and hairline. Make sure to cut across and follow the lace around the forehead rather than cutting straight, cutting the lace straight gives an unnatural look to the wig.
Now that you know the benefits of wearing a glueless lace front wig, let's know how easy you found it in the comment below.